Canada Manitoba Provincial Nomination Program step by Step – 2023
Canada Manitoba PNP step by Step boasts a stable economy with a traditional low unemployment rate by immigration people from outside Canada. Getting a work opportunity in Manitoba is like to reward for an immigrant with competitive salary, a good benefits package and established worker rights. Manitoba PNP  forecast predicts 177,800 job vacancies over the next five years, with nearly two thirds created by retirements.Canada Manitoba PNP step by Step also aims to improve its communication to new immigrants by clearly outlining both labour market requirements and business investment priorities. Canada Manitoba PNP step by Step plans to update these priorities on a quarterly basis. Canada Manitoba PNP step by Step has a low cost of living, plus good public health care and education systems, offer an opportunity to improve an immigrant's lifestyle.
Steps to Manitoba Skilled Worker Immigration
If you are planning to Canada Manitoba PNP step by Step , you first need to see whether you are meeting the minimum points for Manitoba or not. Candidate also needs to make sure that his occupation is existing in the Manitoba Occupation list. You need to go through the process made by Canada Manitoba PNP step by Step which is as below:
Submit Expression of Interest – Candidate need to apply for Canada Manitoba PNP step by Step expression of interest. Candidate has to upload his entire document correctly and give accurate information which submitting EOI. Any wrong or incorrect information submitted by the candidate can be the reason of rejection or permanent ban of Canada.
Letter of advice to apply (LAA) – after submitting expression of interest candidate has to wait for the draw and for hi invitation from Manitoba province. He will get the invitation on the basis of his age, education, experience and other factors against his peers in the pool. Only high-scoring candidates are invited to submit an application for Manitoba PNP.
File for PR visa – once the candidate gets the invitation from Manitoba province he needs to apply for Canada Manitoba PNP step by Step. Candidate need to apply for PR visa within 60 days of invitation otherwise his application won't be considered for PR visa.
Skilled Workers Overseas –
How to determine the Eligibility Candidate can apply for Canada Manitoba PNP step by Step under Skilled Workers Overseas must demonstrate an established connection to Manitoba either through the support of family members or friends, through previous education or work experience in the province or through an Invitation to Apply received directly from the MPNP as part of a Strategic Recruitment Initiative. You can find more information about the different types of eligible connections below.
Manitoba Support –
A Manitoba Supporter is an established resident of the province who is a friend or relative of the applicant and is willing and able to review and endorse the applicant's plan for settling and finding employment in their destination community. A Canada Manitoba PNP step by Step Supporter must be the applicant's close relative or friend/distant relative, and must be:
Supporter should be able to provide documents proving they reside and are established in Manitoba and have been living in the province continuously for at least one year.
Supporter should be Canadian citizen or permanent resident
Manitoba supporter should be able to demonstrate sufficiently close ties to the applicant and to Manitoba
He should be able to demonstrate that any applications they previously supported resulted in successful, permanent economic establishment in Manitoba
Supporter need to support the applicant's Settlement Plan to Manitoba Immigration
For close relatives, both the applicant and the supporter must provide documents proving their familial relationship.
Familial relationships – To be considered a close relative, a Manitoba Supporter must be related to the applicant (or the applicant's spouse) in one of the following ways: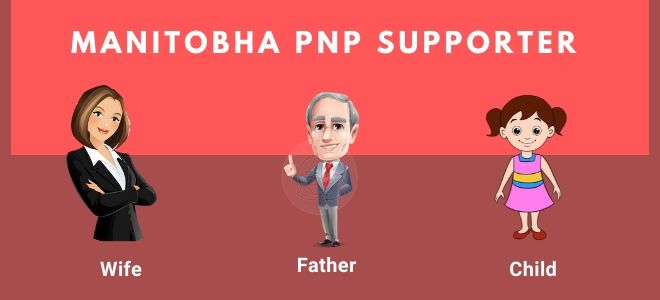 Mother
Father
Sister
Brother
Grandmother
Grandfather
Niece or nephew
Aunt or Uncle
First cousin
Other relative
Close friend
Can children support parents?
No. Children living in Manitoba cannot serve as Manitoba Supporter for their parents' MPNP application. They can Sponsor their parents and grandparents.
Eligibility criteria for Manitoba PNP
Candidate should be older than 21 years and younger than 45 years of age.
They should have a valid job offer or an occupation in-demand
They must be able to provide Manitoba immigration authorities with a Settlement Plan that would showcase their willingness and ability to settle in Manitoba.
Should be able to show a minimum of 2 years of working experience in the past five years
They should at minimum achieve a CLB6 score in all four segments of the IELTS exam.
Should have at least an undergraduate diploma or degree or equivalent certification.