Australia PR Visa from India
Australia PR (Permanent Residency) visa is a most loved visa of Indians. Australia is one of the most desired country of Immigrants in the world. Australia PR visa offers a huge amount of opportunity for new immigrants in Country, especially for Skilled immigration Visa, Study Visa, Business visa. The Australian government has created several visa categories that facilitate Australia PR visa from India, and attract and invite thousands of immigrants every year in the country.
The top benefits of Australia PR visa are the high quality of life, unbeatable working environment, excellent education system, efficient healthcare system, good place to raise a family, mild weather, low crime rate, affordable living costs, and a high quality of lifestyle.
Australia is the dream city to migrants! Not only to enjoy the environment and destinations but also for the immigration purpose and to work in the most contented working environment, study with the best universities and settle with the friendliest citizens in the world. With Australian PR visa comes a window of a great opportunity to excel in your career, experience personal progress and give yourself and your family a better environment to grow in.
Australia has the growing demand in fact, for skilled professionals in Australia. This is your time to take the chance and apply for Australian PR now to explore an endless world of prospects.
Why you should apply for Australia PR Visa?
Australia has so many benefits for which an immigrant chooses Australia to move in as a permanent resident of it. It offers a high quality of life and unbeatable working environment. The top benefits of Australia PR Visa are:
Career Opportunities: There is a huge career opportunities as Australia has the 100% employment rate and skills shortage which opens many job opportunities for skilled migrants.
Education: while coming to Education, Australia is the top world class education providers in the world. Students across the world came to Australia to learn high education from the top universities. It has over 1,200 institutions which offer over 22,000 courses under different subjects to choose.
Healthcare: Australia has one of the most efficient healthcare systems in the world. Medicare provides basic health cover for all Australians and there is a private healthcare system.
Family: Australia is a good place to raise your family, even one of every two Australian has either parent in overseas or born in overseas. Your family will experience a high quality of life in Australia.
Weather: In Australia you will experience hot in summers and mild in winters. Victoria and New South Wales enjoy a regular snow season in the high country during winter.
Security: Australia has a low crime rate compared to the rest countries, the constitution is equal to all with strict punishment rule. Australia provides a home for many refugees from around the world every year.
Living Costs: Australia provides a very comfortable and affordable life to everyone. From eating, clothing, housing, travel, etc. you can do at a very affordable price.
Life style in Australia: Everyone knows that Australians live and enjoy a high quality of life. In Australia, you can enjoy your new start with plenty of fresh air, multi-cultural & welcoming society, low population density, excellent climate, and job opportunities, etc. We consider its healthcare system as one of the best healthcare systems in the world with a subsidized medical fee. In Australia, you and your spouse life will be changed and your one decision can change yours and your family's life forever.
What are the eligibility requirements for Australia PR Visa?
You must be under 45 years at the time of visa lodgement (for Skilled Migration Category)
You must choose an occupation that is related or closely related to your work experience from the relevant occupational demand list of Australia
You must score relevant IELTS/PTE points for applying for skilled migration programs
You must have a positive skill assessment report from the relevant assessing authority
You must have minimum educational qualification as per the Australian education system standards under Australia PR visa.
You must be in good health and possess good character
You must score minimum Australia immigration passing points under various immigration factors
Points System for Australia PR Visa
Australia is famous for its systematic immigration point process and once you submit an EOI (Expression of Interest) in Skill Select your profile is ranked according to the information provided by you in the EOI pool. The factors that affect your immigration point score are: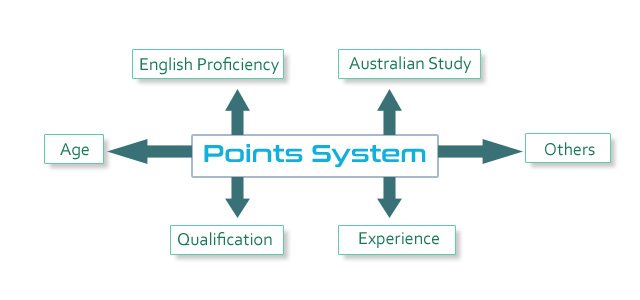 The minimum points you require are 65 points to get Australia PR visa for the above factors.
Wait for a response from Australian authorities, once Australian government finds that you are matching up with its visa scenario you will soon get an Invitation to Apply (ITA) for permanent residency status of Australia and you have you apply with 60 days of ITA received a date. After all successful process you can migrate to Australia on Australia PR visa and start your new life.
What is the Process of applying Australia PR Visa from India?
Step 1 – Check your nominated occupation on the relevant SOL list.
Step 2 – Take the Language Assessment Test and score desirable language score
Step 3 – Get your skill assessment done and it requires a positive report to move further in the process
Step 4 – Get Sponsorship from the Australian State/Territory (if applicable)
Step 5 – Now submit an EOI profile through online Skill Select
Step 6 – The applicants with the highest scores are invited to apply through regular DIBP draws
Step 7 – The successful applicants have 60 days to apply for a visa
Step 8 – Australia Immigration Processing Time:
What is the processing time for Australia PR visa?
The Australia PR Visa processing time varies application to application and the visa category in which you applied. Every visa program offered by the Australia Immigration Department has own processing time. The average processing time may take from 8 to 11 months depending upon your selected visa category.
What are the Australia PR Visa pathways?
How can we help you in getting Australia PR from India
Are you interested to apply for Australia PR visa from India, but not sure how to do it? Whether you want to make Australia your permanent home, it is important to get access to the most up-to-date information. Below given are some best ways to Australia Immigration like Australia PR visa, Skilled Worker Visa, Business Visa, Study visa, Student Visa, Tourist visa.
Call us @ +91 8448490104 or mail us @ info@worldoverseasimmigration.com for personalize immigration assessment according to your profile from our best immigration consultant for Australia immigration.
Free Immigration Assessment
If you need authentic help for making your application for Australia immigration (PR) visa, you should talk to our Canada immigration experts. We will be able to take care of every aspect of Canada immigration. Fill out our free assessment Form to get started today!
"I am sharing these experiences because my process took 9 months, and I called many times to the documentation team because after paying and seeing so many comments I lost my belief that they are true, I contacted many consultancies and they said WOI process is wrong but whenever I called them they told me to have faith they are working, my expense was more, I was tensed for that also but at last when I got my PR VISA for Australia. I am just speechless and ashamed also that I blamed them so much even at last I was thinking for a refund but don't I thought let's see what happens as it was my first time.
THANK YOU SO MUCH FOR DOING MY PROCESS I KNOW IT'S A INTERNATIONAL PROCESS AND IT WILL TAKE TIME.
Anurag Solanki